UPCOMING EVENTS
Cheese, Chocolate, and Chardonnay - October 15

General Membership Meeting - October 18

Kids' Holiday Party (co-sponsored with PCL) - November 26

Holiday Book Bundle Sale - Nov. 27 to Dec. 31
Purpose and Benefits
The Friends of Peninsula Community Library is a dedicated group of people who value the presence of a top quality library here on Old Mission Peninsula and volunteer their time to promote and support it. Their efforts enhance literacy and learning throughout the community.
In addition to the opportunity to meet other like minded people, members enjoy early access to book sales & involvement in many fun activities that benefit the local community.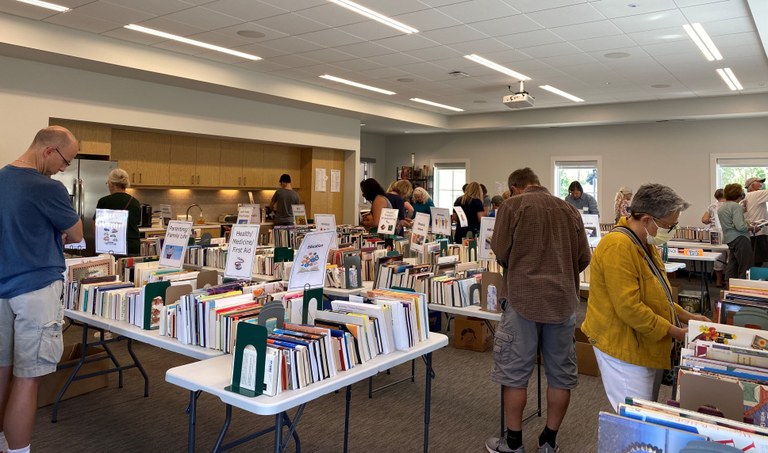 Old Mission residents and visitors alike look forward to the annual summer sale
as well as smaller sales hosted occasionally throughout the year.
   
Be sure to check out the Friends Shelf next time you stop in the library!
Activities
As a 501(c)3 organization, the Friends raise funds in order to support PCL beyond its operating budget. This year the Friends are contributing over $20,000 to help fund Programs and Services. Most recently, PCL Friends have:
Funded activities such as Take-Out Craft Bags for children and adults

Provided equipment and art supplies for the Library

Provided the subscriptions to Traverse City Record Eagle, New York Times & Wall Street Journal

Helped cover expenses for Summer Reading Club

Sponsored speakers and musicians

Paid performers for Zoom appearances

Contributed to the new PCL building construction by donating $35,000 to the Capital Campaign Fund

Contributed to the purchase of the library's new generator

Contributed to the establishment of PCL's new Library of Things

The Friends also make plenty of time for fun activities like hosting the Summer Solstice Picnic every June 21st. Talented performers Doc and Donna Probes drew a crowd this year with their lively Irish tunes and wonderful voices.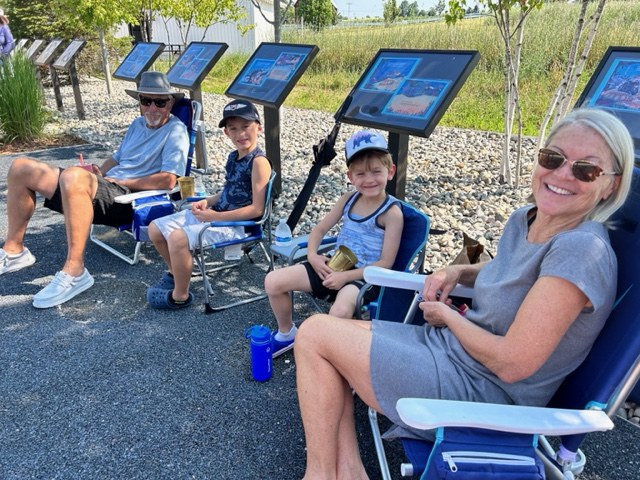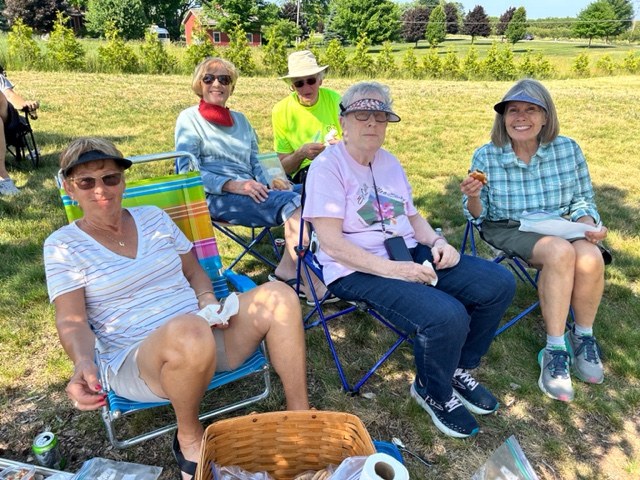 How do the Friends make money?
The Friends benefit greatly from generous donations from PCL patrons and yearly membership dues. In addition, most Friends' activities involve donated books...collecting them, organizing them, storing and selling them.
The 2023 Friends Book Sale was a success! Thank you to all who helped make it happen. Donations for the 2024 book sale will start January 15, 2024.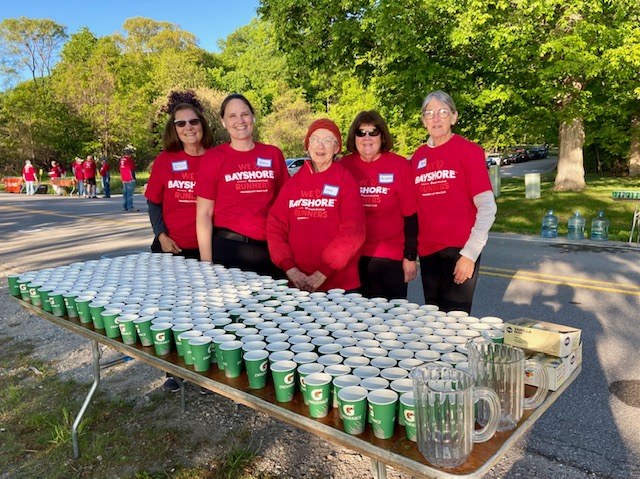 Friends and library fans have a lot of fun and provide a great community service every year at the Bayshore Marathon.

The Friends receive a significant donation from the Bayshore Marathon for OPERATING AN AID STATION during this Memorial Day weekend event and are always looking for volunteers for this fun experience.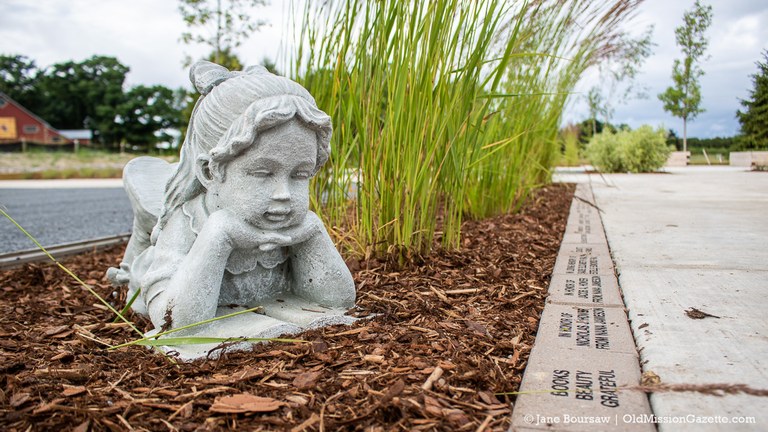 Photos courtesy of Jane Boursaw
The Friends have been able to contribute to the Children's Garden behind the library both in fundraising and landscaping by selling PERSONALIZED BRICKS over the last several years. We will continue to offer the purchase of these bricks each year. To have your brick installed in the current year, your order needs to be made by August 23rd of that year.
Membership
Membership is open to anyone interested in becoming involved. Beyond paying the membership fee, there are no assigned duties,
but involvement is rewarding

for those who wish to connect with others and pitch in with the group's efforts. New Friends are always welcome!
You may download the application or pick one up at the library. Please click here for the 2023 Friends of PCL Membership Form. Completed forms and dues should be submitted to a staff member at the circulation desk.
Annual dues are structured to accommodate both households and individuals:
Friend                                   $15/Individual
Friend(s)                               $25/Household
Lifetime Friend                    $100/Individual age 75+
Meetings and Events
Quarterly meetings are held in the Library Community Room.
FPCL Minutes
Detailed minutes of past Friends of PCL meetings can be found here.
Current Friends of PCL Officers:
President:  Marcia Decker
Vice-President:  Madelyn Ryan
Secretary:  Nancy Tucker
Treasurer:  Mary Kennedy
Trustees:  Robbin Stott, Lisa Taylor, and Michele Westcott